Make real impact with smart technology
We are Kroodle
How great would it be if we all would show more responsible behaviour? This would mean less accidents, healthier people and… lower insurance premiums!
Kroodle is an InsurTech startup and brings 2 worlds together: behavioural change and technology. Our mobile apps offer users the right insight and feedback at the right time, to motivate them to improve their behaviour.
How it works
We measure customer behaviour using 'connected devices' like a phone or a FitBit. You give us data about your behaviour, we reward you with discounts and/or perks if you choose for a responsible life and driving style. And we make it fun by offering you insights and smart functionalities in our apps.
As a customer you can now influence your insurance premium yourself. You will no longer be billed solely for things you cannot do anything about, such as your age, zip code and type of car. We think that's fair!
White label technology
Kroodle offers white label technology to insurers. We offer 2 products:
New: since we got pretty good at mobile app and web development, we started offering our development skills to other companies.
Proven results
The results below have been achieved in a connected car pilot with the Aegon car insurance.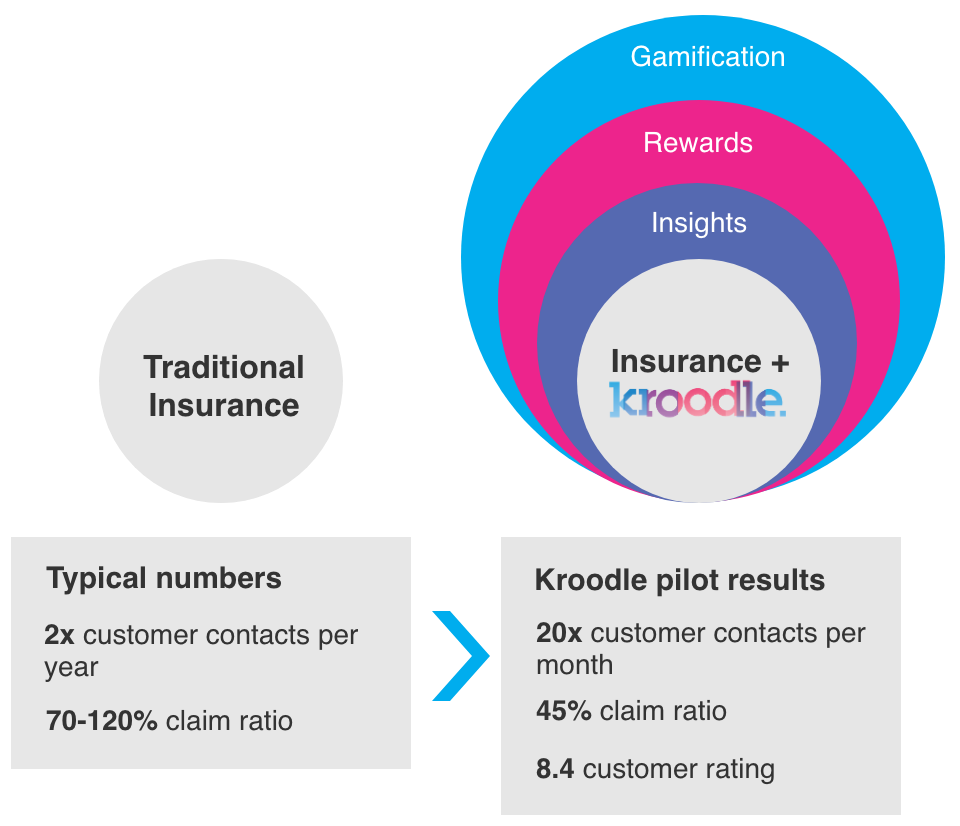 We make things with impact
If you choose a healthy way of living or a safe way of driving we reward you with a discount on your fee. Not only good for you & us, but we like to think we are making the world a tiny bit better with more fit people and safer roads. Lot's of birds in one stone!
We are located in the Apollo 14 building in The Hague, part of the Impact City program.
Digital product development
In addition to our products, we offer our development skills to other companies. We have been realizing and validating many digital products, often within complex organizations. We love big data, algorithmes and IOT. The result is always solid and future proof. Click here for more information.
Contact
Contact us at contact@kroodle.io or call +31619266796 (Kees)
NEW: ONVZ HeadCTRL
Dutch Health Insurer ONVZ and Kroodle launch mental health app HeadCTRL
November 2018
The HeadCTRL app provides ONVZ customers insight into their mental health. The Kroodle platform enables users to actively work on their health in the app. To boost motivation, users can earn credits that they can spend in the online shop.
How it started: the first Facebook insurer in the world
Easy does it!
Did you know that Kroodle launched worlds first Facebook insurance in 2013? Who would have thought that you could buy insurances with just your Facebook account. No complex forms, no signatures, no policy numbers and no paper.